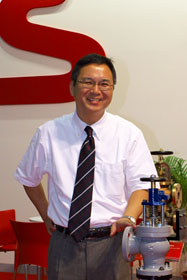 Naoki Sawamura, President
Since our establishment in 1925, We have been supplying our products to various industries, such as shipbuilding, power plant, petro-chemical plant, and etc.
Nature of our company is "Just try it".
During the period, we developed and improved many kind of valves in many applications to meet customers' needs of safe, durable, high performance and cost effectiveness.
Through the above experiences, we built up highly solid manufacturing standard of "Japan Quality" in our company.
Following globalization of the market, we aim to expand our supply and purchase network to Asian countries
We would contribute customers in the area through supplying our original products made with our policy, "Japan Quality with International Price".
with best regards,
Naoki Sawamura, President

Company Name

SAWAMURA VALVE Co.,Ltd.

Head Quarters

1262-2 Kawasebaba-cho Hikone City, Shiga Prefecture, 522-0223, Japan
TEL +81-749-25-1101 / FAX +81-749-25-2964


e-mail

s-info@sawamura-valve.co.jp

Start of Business

May 1925

Date of Foundation

May 10, 1943

Capital

10,000,000 Yen

Representative Director, President

Naoki SAWAMURA

Main Financing Banks

Hikone Branch, Shiga Bank, Ltd.

| | |
| --- | --- |
| May 1925 | Yoshitaro SAWAMURA established Sawamura Iron Works to start |
| May 1943 | Sawamura Valve Manufacturing Co., Ltd. was established, with a cast iron and bronze factory constructed to start integrated production. |
| December 1953 | Accredited by Ministry of Transport with the Japanese Industrial Standards Certificate for the manufacturing process of cast iron and bronze marine valves. |
| March 1954 | Accredited by Minister of Economy, Trade and Industry with the Japanese Industrial Standards Certificate for the manufacturing process of cast iron and bronze land valves. |
| October 1969 | The factory moved to a newly built plant of 3,500?u in a site area of 10,946?u in Kawasebaba-cho Hikone City, Shiga Prefecture. |
| May 1975 | Celebrated its 50th year in business. |
| August 1990 | Introduced NC lathe and machining center to start the automated production of marine valves. |
| August 1995 | Started the production of ductile iron 20K valves and stainless steel valves. |
| September 2002 | Started the production of cast iron cocks. |
| August 2004 | Started the import of materials from China. |
| April 2008 | Started the production of cast steel valves. |
| November 2011 | Started the production of ship equipment. |
| April 2013 | Company name changed to Sawamura Valve Co., Ltd. |