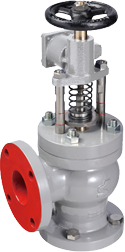 ?A spring can be easily replaced by virtue of its outer spring mechanism.
Manual control is also available due to the provision of a hole outfitted in the cylinder rod.
Ultra compact design that saves space.
A sheet ring is provided for use as a conventional valve.
Fuel can be immediately shut down in case of an engine trouble.
The safety of valve has been improved by reducing spring load due to the downward flow channel through the valve. Cost has been also cut by using a down sized spring.
Smooth operation has been achieved by employing a sleeve down method.
Standard
JIS F7399
Stem
Stainless Steel/SUS403
Bonnet
Ductile Iron/FCD
Cast Carbon Steel/SS400
Body
Cast Carbon Steel/SC450
Size
25A~100A
Rating
JIS 5K/10K/16K
Disc
Stainless Steel/SCS2